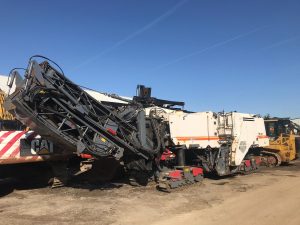 We were contacted by a company from Uzbekistan who required a Wirtgen W2200 Road Planer for their ongoing contracts in the area and Omnia had a machine available in the UK that would fit the budget and requirements for the customer. One of the partners for the business is from the UK and requested to inspect the machine, which we were more than happy to facilitate. Upon completion of the visit, the deal was agreed and the paperwork was drawn up. Due to documentation requirements in Uzbekistan, there was a number of obstacles to overcome and contracts to be proofread and approved.
The logistics of delivering this machine to Navoi were more complicated than normal due to Uzbekistan being landlocked and not having a direct port of call. The standard route to this region would be to send the machine by RoRo vessel to the Black Sea port Novorossiysk, the machine would then be trucked to its destination. This would have taken longer than the client could afford to wait so other options were sought.
After consultation with the shipping lines we decided the best course was to ship the machine to Paldiski in Estonia, the machine would then be loaded onto a rail platform and transported via the Russian Rail network to Navoi Railhead where the customer will then take control of the delivery, the entire transit time was a little over 5 weeks from collection in Lincoln.
One issue we did find with moving construction machinery through Russian Rail was the limited number of insurance companies available to cover the shipment. With our client being local to Uzbekistan we asked for a recommendation from them and we were able to put a policy in place