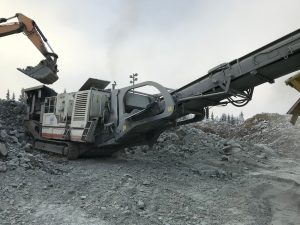 A client from Africa contacted us about a Metso LT3054 Jaw Crusher that we had advertised online and had a requirement for two for a quarry in Cameroon. We sourced another machine with the correct specification and a deal was agreed quickly, we offered a replacement conveyor belt for one of the machines as a gesture of goodwill.
Both machines were located in Norway, one in Oslo and the other near Trondheim and were ready to be shipped straight away. The first logistical issue for the delivery to Duala was the machines were too heavy to move through Norway in the units operations mode. With this logistic problem in mind, we negotiated with the suppliers to delivery the machines to port, both having more knowledge of local road restrictions.
The Metso's shipped through Antwerp using Grimaldi Lines and arrived in Cameroon for the client to start work straight away. The conveyor belt was shipped separately from the UK via consolidated cargo and arrived at the same time as the first machine.