Maintaining your equipment is no easy task, it is crucial you have a plan in place to avoid any downtime which is not scheduled. Routine is key if you want to prevent any malfunctions of your heavy machinery. In the UK alone 20% of the build budget is lost due to weather challenges therefore, you do not need any further complications costing you money or causing delays. Although maintaining machinery can be costly it is an investment that you will not regret making, as repurchasing this vital equipment will be substantially more.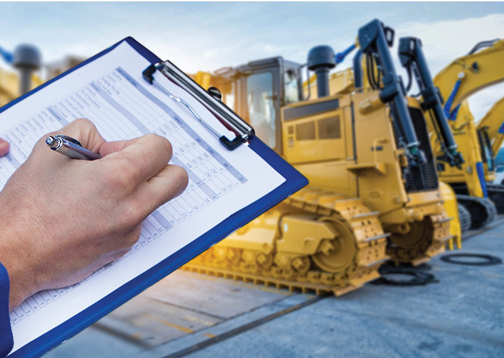 ---
Below are a number of recommendations to prolong the lifespan of your heavy equipment:
Maintenance records – It is so important to make sure regular checks and services are carried out on your machinery to ensure it is working as it should and there are no issues. Keeping track of this how often this is performed and if any concerns were recorded at each check will make it easier to avoid equipment failure.
Regularly cleaning the machines to remove any dust or dirt – This goes without saying, if you want to get the most out of the equipment, you must make sure it is free from dirt. If a build-up of grime occurs this could damage electricals which in turn may lead to the deterioration of the machine.
Add and test lubricants frequently – This prolongs the lifespan of equipment substantially, as build up or leaks can be warning signs of serious machinery defects. Certain component of the machine will require specific lubricants, it is important you comply with the manufacturer's recommendations. Oils must be changed when necessary to avoid wear and tear or worse breakdowns.
Train your staff – Make sure your workforce are trained in both how to use the machines and the health and safety regulations they must comply with. It is essential that this is maintained upon any changes of staff or change of legislation. It may be beneficial if all employees have a manual on hand making it easy for them to keep track and go back to check if any concerns do arise.
Use the right equipment for the task at hand – The machinery required can vary depending upon a range of factors such as: terrain, materials, weather and many more variables. Also, the attachments can be quite specific based upon each machine and what you would like it to do, therefore it is important your workforce are clear on how to use it correctly and efficiently.
Check for signs of wear – There can be a number of reasons as to why your machinery may breakdown, amongst them are: age, vibrations, shock, high temperatures and many more. To avoid wear and tear as much as possible whenever there are signs of this you should replace the part in question as soon as possible.
Understand the limitations of your equipment – The owner manual will tell you all you need to know about a machine, a key aspect to keep in mind is the stated performance specification as this is something that should not be breached. Also ensure it is set at the correct power mode for the task ahead.
Store your equipment correctly – It is detrimental to the machinery if not kept in the correct environment, leaving equipment outside in rain or sunshine will cause the machines to overheat or rust. On the other hand, storing them inside your warehouse is not good enough, you must ensure they are covered to avoid any dust or dirt contaminating them.
Understand your machinery inside and out – It is crucial you know every aspect of your equipment as this allows you to know how to look after it most efficiently. If you know which components need more attention and how to do this correctly you will extend the lifespan of your equipment considerably. 
Routine is key – Carrying out all of the above recommendations often depending upon when this is required will ensure your equipment is always in the best condition.
---
At Omnia Machinery, all of our heavy plant machinery is inspected before being prepared for shipment enabling you to buy in confidence. Should you have any used machinery requirements for your upcoming projects, please do not hesitate to contact us! Alternatively, you can browse our extensive selection of quality used plant machinery here.