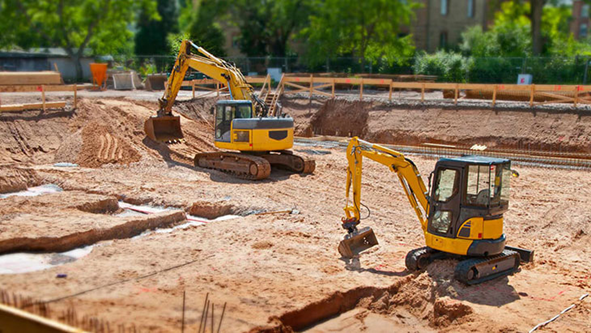 What is site preparation?
Before any construction project can begin the site must be prepared, this involves various essential tasks which if carried out correctly, should allow the project to run smoothly. Among many other benefits, this will give contractors a better understanding of where pipes and electrics are expected to run. Specific heavy machinery will be required to ensure the area is correctly and efficiently prepared. The types of machines which are usually involved at this stage are bulldozers, land graders, backhoe loaders and many more.
---
What does the process involve?
Site Evaluation – Is this space suitable for your project? Does this site have enough room? Is it in a good location? What possible issues could occur? It is good value for money or is there a possible better location? Gain an overall understanding if this is the right space for the specific project.
Soil Testing – Once you have picked the right space for the project, this is the first stage which must be completed. It is important to understand the properties of the soil before building on it. The structural designer can investigate and analyse in the laboratory if the soil needs strengthening. It also is tested to see how well it can absorb water or if this could be a potential issue. Once the recommended adjustments have been conducted the soil is tested again to see if it has improved, so work can begin.
Demolition – The area in which the construction is planned for must be cleared of all old buildings, trees, underground infrastructure and any other obstructions. If any structures are left, then they must be confirmed safe and secure by a competent professional.
Underground utility mapping – Extra care should be taken at this stage specifically if the project is based in an urban area, to ensure no pipes or cables are damaged as this may cause disruptions to service lines and waterworks.
Site survey and layout – With the underground mapping now being complete you must layout out the building plan using service pegs or physical markers to show the exact coordinates where the structure will sit.
Site clearing – The site must be clear and flat for at least around three metres from the building zone, it must be free of any underground wood, trees, rocks, and underbrush.
Site excavation and earthwork – Now its time to get the plan onto the ground. Once the depth required is calculated the soil must be removed which creates the foundation for the building. There are two types of excavation depending on what the project requires, which are bulk excavation or detailed excavation. A range of heavy machinery is required at this point such as: dumpers, skid steer, loaders and excavators.
Anti-termite treatment – Another essential step is to ensure the site has no termites as they may eat timber and other materials. They are able to get to get into buildings via small cracks in the concreate or cavities in the walls and run a huge risk of causing serious issues to the structure.
Start work – After all tasks above are completed the work is safe to start and should run smoothly.
---
Possible Issues
When preparing any site there are always obstacles which can cause delays and issues down the line. The way to minimise the likely chance of any problems arising is to ensure you understand the importance of the following:
Lack of planning – As every site is different it is key to ensure all planning is centred around this specific area. The plans will need to reflect a number of aspects of the project, such as: the challenges which may arise, the objectives of the prep, the time scale and anything the construction team will need to know before they begin. If this not completed prior it is likely to cause inefficiencies and waste a lot of valuable time.
Complacency – This can be an issue for any kind of business however, it can be dangerous within construction. You need to have motivated and enthusiastic workers manning the machines as they are less likely to become complacent when carrying out routine tasks.
Poor Time Management – This links with planning as the two go hand in hand.  It is essential to you have a clear and concise deadline and that this is emphasised to the construction team. You must know if they can do this successfully, without errors or if you may need to look for another workforce who can.
Weather – You must always factor in the possibility for poor weather as this can cause serious delays when it comes to site preparation. You must confirm your machines chosen can work in the terrain and weather conditions which are forecasted.
---
Omnia Machinery are a trusted machinery trader and we strive to provide our customers with the best heavy machinery. We can provide you with various machinery to suit the site preparation process such as: Backhoe Loaders, Stabilizers, Dumpers and Excavators. Our stock consists of some of the leading road construction manufacturers such as Wirtgen, Hamm, Komatsu, Liebherr, and more. Contact us with your used machinery requirements.