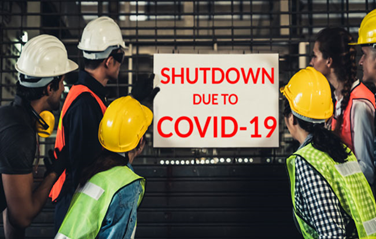 The impact of COVID-19 has been felt around the world in all walks of life, from the healthcare sector, to retail, travel and tourism and many countries are still battling this deadly virus.
A year on the world is trying to rebuild the issues caused by the pandemic, as many people and businesses are trying to recover. The construction sector did not get away unscathed, as for many office workers their homes became their office, and their dining tables their desk. Whilst site workers had little guidance on how to proceed in the early days of the pandemic. As the infection rates increased, the numbers of workers on sites fell, as more and more workers were sent home to isolate. This caused huge repercussions for the industry, as deadlines were missed, and productivity was at an all-time low. This was just one of the many hurdles that construction businesses would face.
The government issued a national lockdown order, resulting in the requirement to stay in your own homes. Meaning that many building sites deemed non-essential were closed. This caused distress to families across the globe, as many were worried about their source of income. The site closures also put at risk a vast number of businesses, as they too required a steady income to keep their company afloat. This in turn has caused numerous supply chain issues as many struggled to source the basic materials needed to complete their upcoming projects.
---
A YEAR ON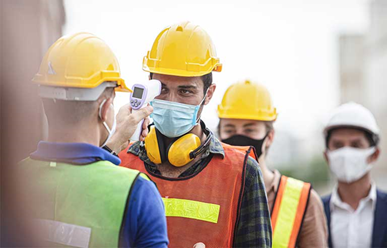 Now all rules have lifted in the UK, and we are getting used to life with no restrictions again. We reflect on how the construction industry is recovering from COVID-19. It has been reported several construction organizations, have urged employees to continue to wear masks and keep socially distanced where possible to reduce the risk of further infections spreading, also to protect their workforce.
It is evident that the aftershock is still being felt across UK firms as companies are struggling with the worst staffing shortages since the late 1990`s. Recruitment agencies have reported that amongst many sectors, the construction industry is an area in which hiring has became more and more challenging.
The industry is determined to get back to where it was before COVID hit. Supply chain problems are still prevalent as the demand for raw materials is at an unprecedented all-time high and is forecasted to continue this trend for the foreseeable future, possibly even into 2022. This has created a rapid inflation of pricing on such goods, with some more than doubling the price they were before the epidemic. Many firms run the risk of long delays causing pricing negotiations, profit loss and the possible risk of losing contracts. June reported that several organisations had to build their inventory levels to minimise the risk.
It is expected that the construction sector will be back to pre-covid levels by 2022. With many infrastructure projects already underway, and numerous forecasted to start in the coming months. Although there may be challenges still to overcome in a post-Covid landscape, it instils optimism across the industry.
---
Impact on Omnia Machinery
As machinery traders in the construction sector Omnia felt the impact of COVID-19 as our staff adopted the new working from home lifestyle and our ability to travel and meet clients was halted. However, the demand for plant equipment and heavy machinery was increasing and we were able to meet those requirements. Just as we were in the pandemic Omnia Machinery are a trusted and dedicated machine dealer. Should you have any used machinery requirements for your upcoming projects, please do not hesitate to contact us! Alternatively, you can browse our extensive selection of quality used plant machinery here.