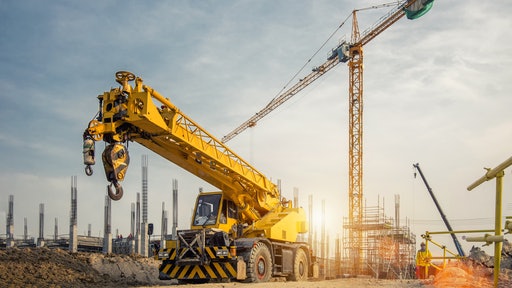 Cranes are an important piece of heavy plant equipment within the construction industry. Most construction sites will be home to at least one type of crane to assist in heavy lifting and building jobs. Within the industry, cranes are used to construct buildings, bridges, skyscrapers and lift heavy equipment and materials. Below are some facts that you may not know about cranes:
Cranes were invented by the Ancient Greeks, with traces back to as early as 515 BC. The earliest cranes were built by wood and powered by humans and animals.
The top companies in the crane market are Terex Corporation, Liebherr Group, Komatsu Ltd,

Tadano Ltd

and

Sany Group

.
The Liebherr LR 13000 is the tallest crane in the world and is able to achieve maximum heights of 248 metres.
There are currently over 20 types of cranes, all which are suitable for different jobs. Some of the most popular types of cranes include: mobile cranes, crawler cranes, truck-mounted cranes, rough-terrain cranes and off-shore cranes.
Construction cranes share their name with the tallest flying bird in the world. The industrial crane was modelled after the bird that has a wide, heavy-set lower body with a nimble and long neck and head. The 'body' of the crane helps to anchor it, whilst the 'long-neck' is used to lift heavy construction materials.
In London, you can dine in a 'sky-high' restaurant that is actually a dinner table and chairs that are suspended over 100ft above the city from a crane.
Tower cranes build themselves up, level-by-level, by using its own lifting power. A smaller crane will be used to assemble the jib and machinery, then the tower rises from the base and builds itself up each section at a time till the desired height is achieved.
2018 statistics show that mobile cranes account for 70% of all crane market share, with the demand for these models continually rising.
Whilst there are a variety of types of cranes available, there are a few basic components that build up the majority of cranes: the boom, jib, rotex gear, outriggers, counterweights and the hook.
The crane and hoist global market is currently valued at $26 billion USD in 2021 and is expected to grow to £33 billion USD by 2026.
---
Omnia Machinery pride themselves in offering quality used cranes to suit a variety of jobs. We stock crawler, mobile and off-shore cranes that are ready to be shipped and put to work on your upcoming projects. Should you have any specialist requirements, please contact us and our knowledgeable team will be happy to help!