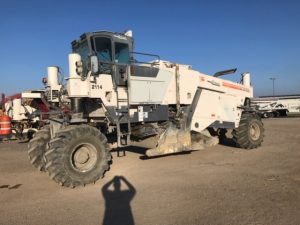 A UK client was in need of a Wirtgen WR 2500 SK to fulfil an upcoming contract. Owning a number of these machines already, he was aware of the difficulty involved in finding them available for sale on the used market. Using an extensive network of contacts within the USA, Omnia sourced a 2010 model with just 6,500 hours within a week of the initial enquiry, coming from a major groundworks contractor in Texas.
At this stage, Omnia always encourages clients to physically inspect the machine. This is not always an option for a number of reasons – no time to travel, VISA issues to name a few.  On this occasion, Omnia accompanied the client to Texas for the inspection. Overall, the machine was in good condition and had been maintained to exceptionally high standards. There were a few minor repairs required before shipment, which Omnia organised through a combination of the supplier and Wirtgen Group.
For shipment, the machine was moved from Frisco to Galveston Port by low loader. The machine then sailed from Galveston with a transit time of 21 days into Southampton Port. Once customs cleared and all import formalities completed, the machine was delivered to the customer's yard in Hexham the following day, ready to go straight to work on the upcoming contract.