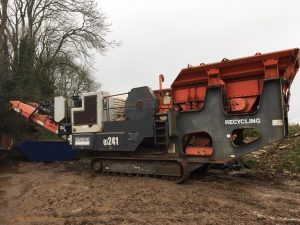 We were contacted by a new potential client from outside Seattle in the Unites States, they had a requirement for a small crushing line to import. After a discussion in regard to the needed output and what type of rock will be ran through the crushing line, our sales team offered the customer a Sandvik QJ241 which was EPA certified to be imported into the US. We supplied a number of working videos to the client and an inspection on the machine so the client did not need to travel to view.
Our client had not previously imported a machine into the USA and asked us if we could help organise the destination port fees along with the duty and VAT. After speaking with the shipping line we put them in contact with a reliable customs broker whom we had previously worked with and who had an understanding of how our business operates.
From previous experience we knew that the machine must be cleaned to a high standard in order to pass through US customs. Before the machine was moved to port, Omnia organised for the machine to be taken to a local cleaning facility to be thoroughly cleaned and minimise any chances of delay.