Construction is brilliantly fascinating, from huge skyscrapers that disappear in the clouds to incredible innovations that shock and amaze us every day. The industry has come a long way from steam engines and the developments are still increasing at an impressive rate. With technological advances like drones and AI is it a wonder where the sector may go next but we cannot wait to see. If you are like me, you will love hearing all about the weird and wonderful that has come before as well as what may come in the future.
---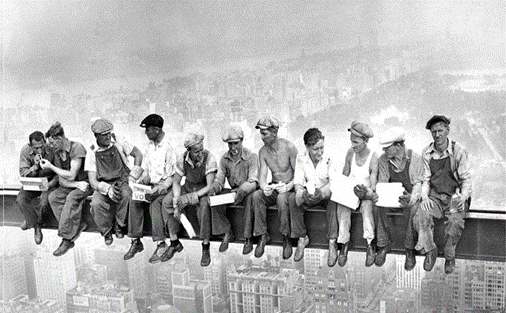 The Empire State Building and its many bricks.
Construction began on the Empire State Building on 17th March 1930 and ended 1 year and 5 days later. It was the worlds tallest building up until 1971 when it was stolen away, however it is still one of the most iconic buildings ever constructed. There are over 10 million bricks in the empire state building and it took around 3,400 workers to create it. Did you know there was a race between 40 Wall Street's Bank of Manhattan building and the Chrysler Building to be the worlds tallest building however General Motors executive John J. Raskob and Al Smith who created The Empire State beat them both to it.
57 Storey Built in Just 19 Days
A Chinese construction organisation is alleging they are the world's fastest builders, after they built a skyscraper in just 19 days. Located in Changsha, China, this spectacular structure showcases the power of modular design. It is named Mini Sky City as it is planned to be part of a larger Sky City series of interconnected skyscrapers that will include vertical farming spaces.
The World's Smallest Skyscraper
J.D. McMahon promised to develop an impressive skyscraper that would bring great benefits to Wichita Falls. The blueprints of this building stated that this would be 480″ long, which is 480 inches. But it was meant to be 480′ long. The investors didn't notice that at all, and they approved only to find out later that McMahon had built a structure a meagre four stories tall, took the rest of the money and left Wichita.
Concrete has been used for some of the most famous structures around the globe. Among many impressive structures, the Roman Pantheon was built from concrete. Currently, the largest concrete structure ever built is The Grand Coulee Dam, using more than 11,975,521 cubic yards of concrete.
Turner and Townsend reported that as it stands Tokyo is the most expensive city in the world to build, with an average cost of $4,002 per sqm closely followed by Hong Kong at $3,894 per sqm and San Francisco at $3,720 per sqm. It is reported that this is due to the extensive pipeline of real estate and infrastructure projects pushing up demand for construction resources.
It took the equivalent of a small US City's population to build The Burj Khalifa. Although in 2022 it will no longer be the tallest building in the world it is still a building to marvel at. With 163 floors above ground, it took over 12,000 people to construct. With 80% of US cities having a population of fewer than 10,000 people, this means the Skyscraper took roughly the population of a small US city to construct.
The Hoover Dam, formerly called Boulder Dam is a concrete arch-gravity dam in the Black Canyon of the Colorado River. Construction began in 1931 and was completed in 1936, during the great depression. The 3,250,000 cub yards of concrete used to construct the hoover dam was equivalent to the amount needed to build a two-lane highway that stretches nearly 3,000 miles of land between San Francisco and New York City. Over 5,000 workers were employed and sadly due to the dangerous conditions and working practices at the time of construction over 100 lives were lost during the 5-year build.
---
Omnia Machinery is an industry expert in used construction equipment and a trusted machinery trader. We stock a wide variety of quality used construction equipment to suit many different jobs such as cranes, road equipment, quarry, earthmoving, piling, drilling and underground mining. We provide our customers with all information and pictures with their quotation before any sale is agreed. From inspections to shipping, we are here to support you through every step of the transaction and keep you informed throughout the whole process enabling you to purchase in confidence. Contact us today with your machinery requirements.