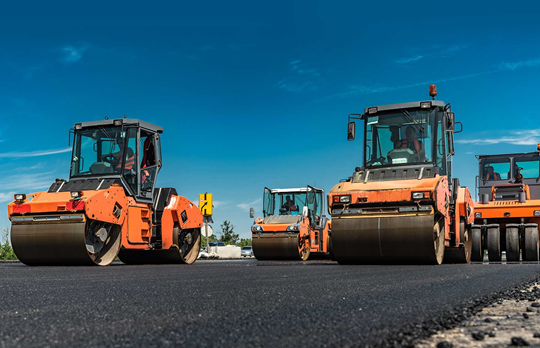 What are Road Rollers?
Although Road rollers are not essential on every site, they are as vital as any other machine when needed as they are required for preparing or finishing foundations. These machines have many names such as steam roller, road roller, construction roller, or compaction roller. Although they are no longer powered by steam the name has stuck with many, they are much more specialised in the modern-day. Rollers can differentiate from one and another dramatically as each are suited to a specific task. Therefore, it is so important to know the difference and what it is you need before purchasing for any upcoming projects.
---
History of Rollers
Since the first Roman Roads were built somewhere around 4000 BC, the construction industry has come a long way and the development of technology has made this a lot easier. Roman roads were stone-paved however, this all changed when roads started to be laid with alternate materials such as soil, gravel, concrete, and asphalt.
The first-ever rollers were horse-drawn but this was very inefficient as they could only pull specific rollers depending on weight. Another issue was the force of the roller pushing down on the road is diminished by the force of the horse pulling the roller forwards, therefore a new way was needed.
In the late 1800s, the steam roller was invented, this worked in a similar way to the modern-day machine.  The weight of the machine, the rollers, and the vibration of the engine combined allowed the leveling to be achieved. The most famous exporter of Steam rollers in the UK was Strood based Aveling and Porter which began in 1862. They built more steam rollers than any other British manufacturer combined.  Steam rollers were used right up until the 1960s, they were even used in the construction of the M1 Motorway in the UK.
---
Types of Road Rollers
Grid Rollers – This type of roller has a cylindrical heavy steel surface that has a network of steel bars that form a grid with square-shaped holes.  Usually, this specific machine is a towed unit as they provide high contact pressure but minimal kneading action. They are usually required for the compaction of well-graded coarse soils and weathered rocks. They are not suitable for clayey soils or silty clays.
Vibratory Rollers – These specific rollers are mainly used for roads and highway construction as they are able to compact loose soil or asphalt perfectly. Self-propelled vibratory rollers can come with drum wheels up to 1.8 metres wide and can weigh from 4 to 6 tonnes.
Pneumatic Rollers – Also referred to as tyred rollers are which are as the name suggests rollers with a row of rubber tyres on the front or rear end. The weight of the machines and the air pressure of the tyres can be adjusted to meet the specific pressure required for a specific task.
Sheepsfoot Rollers – Also known as Padfoot rollers are used for compacting soil, heavy clays and silty clays in road construction work. This type of roller has a wheel drum studded with lugs, usually rectangular in shape and arranged in a hexagonal pattern. The weight of the drum can be increased as in the case of rollers of smooth wheels with water, wet sand or by mounting sections of steel.
Smooth Wheeled – These machines are also known as static rollers and there are two options which are single or double drum rollers. Smooth wheel rollers are best used for gravel, sand, ballast, and on flat or gradual surfaces like asphalt, they are not suitable for anything specialised.    
---
At Omnia Machinery we pride ourselves in offering quality used rollers to suit a variety of jobs.  Here at Omnia, we have a fantastic range of Rollers in all sizes and weights to meet your requirements. We can supply both padfoot and smooth rollers. We have both compact and vibratory rollers and offer brands such as Bomag and Hamm, as well as many other great manufactures.