As the weather changes it is important you start to think about how to correctly protect your machinery this winter. Work does not stop because of the harsher weather but it is crucial you take all the necessary precautions to avoid damaging the equipment beyond repair. Another that arises because of winter is all of the grime on the roads, as the extra salt, snow, ice, and dirt can have an impact on your vehicles both parts and paint. So, make sure you are winterizing your machinery and ensuring they are in excellent operating conditions no matter the weather. Even if you are not using your equipment this winter that does not mean that the plummeting temperatures will not take a toll on your machinery. To avoid spending a fortune come the spring months we have compiled a list of a few simple steps you can follow to help.
TIPS
1. Store your equipment correctly
One of the most important tasks is to ensure your machinery is covered in winter, the cold weather can do a lot of serious damage to your equipment. When the machinery is not in use then keep it dry in a protected, ideally heated shelter. This will prevent wear and tear on wires, paint chipping, rusting and much more. It will also save your time as you won't need to dig it out of the snow when it is required. If storing inside is not an option, then using a high-quality tarpaulin may help block moisture and snow build-up. If your machinery is mostly idle in the colder months then it is always useful to start it up now and again and move it around, as the longer it is left the bigger risk of problems occurring when it comes to restarting the equipment.
2. Check tyres
If your equipment does have tyres then before you put it into storage you should check the tyre pressure. It is best to check what the user manual recommends for the proper pressure as it can vary. However, if you are storing your machinery on concrete it is a good idea to maybe overinflate the tyres slightly as this helps to prevent flat spots. You could also consider jacking up your tyres for the best results. Daily checks should ideally be carried out to ensure everything is as it should be and there are no signs of wear, cracking and chunking or anything that may add stress to the tyres is removed.
3.Check Batteries
The colder weather can be especially harsh on batteries, The drop in temperature can drain the batteries which then in turn makes it harder to start the engine. The best fix for this is to keep your battery charged and warm, if the temperatures are below zero then keeping it indoors when it is not in use may be a good idea. Make sure there is no dirt, debris or rust build-up, as this again can lead to issues arising. Another simple step is to carry out periodic checks of electrolyte levels throughout winter.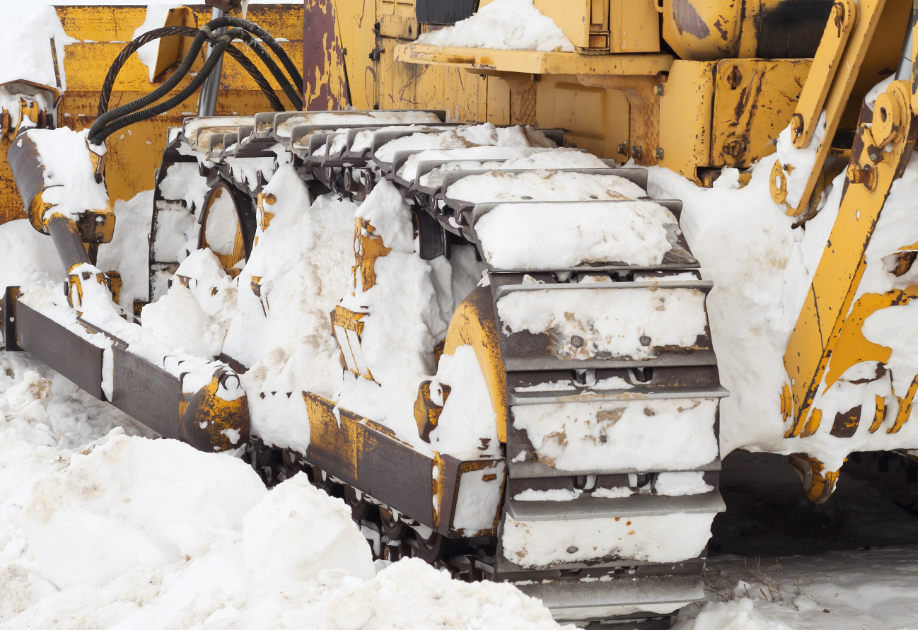 4. Check fluids and filters
Cold weather can cause chaos when it comes to fluids, the oil can thicken which means it can not move as easily which then impacts seals and joints. It is important you follow the recommendations in the user manual when it comes to which oils are best for your equipment. However, choosing an oil that viscosity matches the outside temperature is also something to consider as this can allow the machine to get working faster from a cold start. Be sure when you are filling fluids, leave room for expansion, specifically for machines with diesel exhaust fluid as this can freeze in very cold temperatures. Finally, examine the air filtration system and make sure you use the right replacement filter to reduce the risk of premature engine failure.
5. Clean and grease moving parts
Again, consulting the manual, it is important you understand what lubricants are best to use when greasing moving parts. Make sure all dirt or debris is cleaned from the machinery so that it doesn't build up and cause a serious blockage from being left to harden during the winter. You may not get normal grease to push through the line at low temperatures, so to avoid this prime your system with low-temp grease.
---
At Omnia Machinery, all of our heavy plant machinery is inspected before being prepared for shipment enabling you to buy in confidence. Should you have any used machinery requirements for your upcoming projects, please do not hesitate to contact us! Alternatively, you can browse our extensive selection of quality used plant machinery here.