A member of our specialist sourcing team was in contact with a new customer in Mexico who were looking to sell a set of Wirtgen hot recycling machines.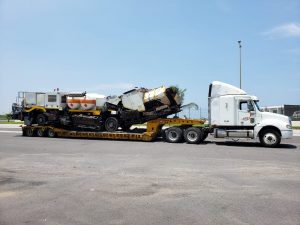 With our extensive network of end-users who run these types of machines, we were able to locate a buyer in Thailand who was due to begin a new project and had a requirement for these machines. During the negotiations, the customer had asked for a manufacturers report to highlight any wear parts that may need replacing before starting operations which we were able to provide.
The customer was satisfied with the manufacturers report and were ready to go ahead with the purchase. Due to the unique style of transportation for the two units, we decided to move them on a Mafi trailer. This helped to minimise any potential risk of damage to the machines during the two transhipments that were required for the voyage to our customer in Thailand.