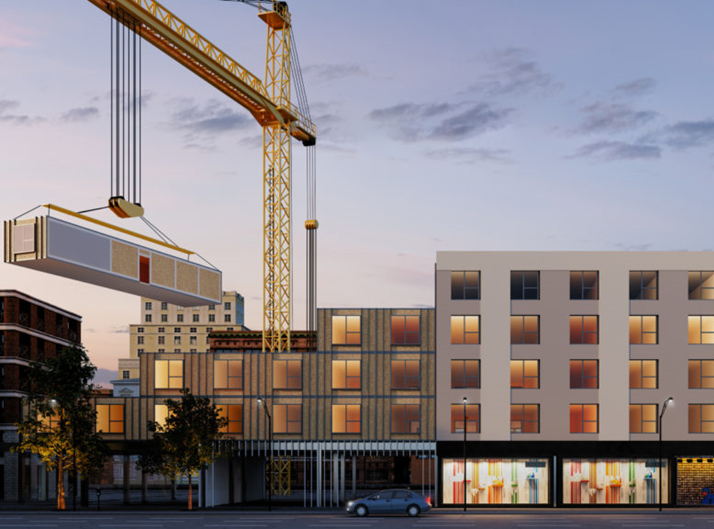 What is modular construction?
It is the process of off-site construction, whereby a buildings components are manufactured in a factory setting and then transported to the site where it is assembled. Many companies are adopting this approach from offices and hospitality buildings to residential properties, and more. In 2015 the J57 Mini Sky City was built in China in just 19 days, which is one of the tallest modular buildings in the world. Modular buildings are usually temporary or permanent, which can mean they vary from 'flat-pack' to façade systems and whereby most of the unit is manufactured off-site before being delivered for assembly.
Although this seems like a new and exciting innovation, it was first invited in the 1830s when a London born carpenter made a prefabricated home for his family. John Manning made his home in parts before he shipped it to Australia from England and put it together. It was also popular in the California Gold Rush in the 1840s and grew due to World War Two to help in the rebuilding of homes.
---
Advantages
One of the greatest benefits of this method is the time reduction, it can allow you to complete a project in half the time of traditional construction. It is reported that companies that have adopted this strategy have saved up to 60% of their overall schedule. This can open you up to more opportunities such as allowing you to accept more work, take on work that has a strict time frame and complete projects ahead of schedule which will impress your clients.
Manufacturing all modules in the factory means you can monitor the progress and development. It also makes quality control a lot easier as you can check every component at each stage of the process to ensure there are no issues.
Modular construction can help improve waste massively, in a recent study it was reported that up to 90% reduction of materials can be achieved. This can improve the impact construction has on the environment on a large scale as there is less waste in landfills and less pollution from equipment. A great benefit of modular construction is the ability to relocate the units which can again minimise waste.
As previously mentioned, as waste is minimised this will, in turn, reduce the costs of materials. Another cost saver is time because projects can be completed a lot quicker than expected, so the workforce is not required to work quite as much. Also, delays and damage from the weather will be eliminated which can also help to cut costs.
Modular construction projects are mainly completed in a factory setting, which means they can avoid weather-related delays. The harsher temperatures can also cause damage to machinery which can again be avoided.
Easy to expand and relocate
As briefly mentioned, one great benefit of modular construction is the flexibility it brings, it allows companies to pick up their business and relocate. It makes expansion an easier task as more modules can just be created and added on if the space is available.
---
Disadvantages
All the modules need to be transported to site once they are completed, if the site is a distance away then risks and higher costs can arise. If you are trucking large modules for an extended period of time the worry is that they may get damaged in transfer. The further away the site is from the factory then the higher costs will incur.
Modular buildings are restricted by the capability of the trucks transporting them, so if you require a very large business then you are best going down the traditional construction route. However, many companies such as healthcare and educational organisations are opting for procuring a number of modular buildings to create a larger complex of offices and teaching space.
Flexibility for structure
Although this method of construction can be flexible it can also be the opposite, decisions on design must be stuck to. Once the modules have left the factory they cannot be changed, even an aspect as little as changing the electrical outlet placements can risk the structure and integrity of the module.
There can be many hurdles to jump when finding the right land for your business and modular construction can make this even trickier. The best route to take is to first check any restrictions before you get started. As the modules are usually rectangular, it is important you ensure your site is a suitable size and shape for it to fit. You also need to confirm suitable facilities.
The usual procedure is to pay upfront or financed on a step-by-step basis, which can be tricky for organisations to commit to. Therefore, if you don't have the funds upfront you can struggle as many banks are not willing to pay out loans until the project is completed.
---
Omnia Machinery is an industry expert in used construction equipment and a trusted machinery trader. We stock a wide variety of quality used construction equipment to suit many different jobs such as cranes, road equipment, quarry, earthmoving, piling, drilling and underground mining. We provide our customers with all information and pictures with their quotation before any sale is agreed. From inspections to shipping, we are here to support you through every step of the transaction and keep you informed throughout the whole process enabling you to purchase in confidence. Contact us today with your machinery requirements.