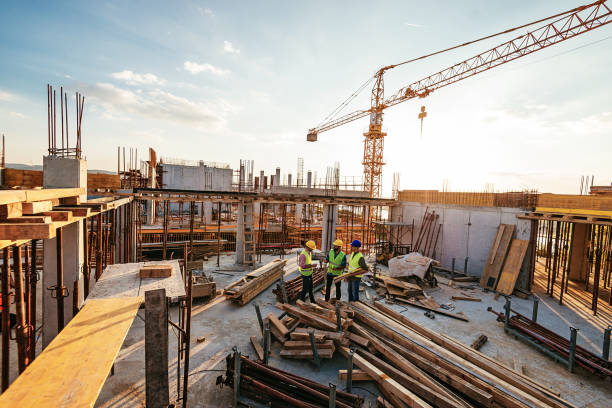 2021 was a very challenging year for construction, there were several factors that caused the struggle. The industry faced mass shortages across a number of their resources from staff to materials, there were moments the sector worried it would come to a halt. Another huge setback was that COVID-19 was still around and causing many restrictions globally. However, the industry continued to prevail and overcome barriers that stopped them from reaching deadlines and finishing projects. Continuing from 2021, 2022 will be a year of re-emergence and development across construction as we have learnt to adapt to a new way of life which has only strengthened the organisations within the industry. We are going to discuss the trends that 2022 will bring, to help you stay competitive this year read on.
---
Let's get into it!
---
What is modular construction? It is a form of off-site construction whereby building components are constructed in a factory and then transported to the site where it is assembled. This can be beneficial for various reasons such as reduced waste, cost, quality and many more. In 2022 Marriott is opening the world tallest modular hotel which will be 26 stories high and built in just 90 days!
Smart and sustainable cities are the future, and many tech companies are already investing in this. The main focus of a smart city is to incorporate new technologies to overcome challenges they face which are usually social, economic and environment-related. The global smart city industry is expected to grow by 20.5% reaching $2.5 trillion by 2025. London, Singapore, and Barcelona are the worlds best smart cities.
Following on from smart cities and modular construction, sustainability will become more and more important as we creep towards 2050. The UK government has made a commitment to being a net-zero carbon economy by 2050. As it is one of the largest users of global resources and contributors to pollution, the construction industry has now begun to find new methods and materials to help reach this goal. Sustainable materials are going to go even further in 2022.
What are exoskeletons? They are suits fitted with motorized muscles that multiply the user's strength allowing them to lift heavier loads safely and more comfortably. In Japan, workers are using the suits to work past their retirement age. According to a report from ABI Research 2.6 million suits are expected to be sold in 2025 which is a substantial increase on the 6,000 sold in 2021.
The pandemic meant a lot of people had to rely on the internet for support and this meant for a lot of construction organizations they could no longer put off adapting their business around it. There are specific developments that are expected to grow exponentially:
Drones' usage has risen by 239% year on year as they continue to be one of the fastest-growing construction trends. They help carry out various tasks quickly and efficiently such as mapping large areas, providing aerial heat maps and thermal images and conducting site surveys which in turn improves decision making, quality of data, time scales and many more.
Augmented Reality (AR) is another fast-growing trend that is expected to value around $1.2 trillion by 2030 up from $37 billion in 2019. Among many interesting benefits AR provides one of the most exciting is the ability to visualise projects in their surrounding environments before the work has started.
Robotics and Automation are reported to be 2022's biggest trends. It is something we rely on in times of need, it helps the industry when we face labour shortages or when productivity cannot be met in a given time. It can improve the quality of buildings and help builders cut out manual tasks such as bricklaying or window fitting.
Working on Residential Projects
Due to the pandemic, most residential projects were delayed, as a lot of people did not feel comfortable inviting contractors into their homes to complete renovation tasks. But in 2022 this is set to get back on track. A major benefit that comes from this is the increased demand for sustainable materials as residents like to reduce their own personal impact on the environment.
The requirement for labour will continue as it has for the last couple of years. The emphasis now placed on the serious need for workers will only become more and more important. Although we do now have help from robots, it is still crucial we have a human workforce to carry out many tasks like analysing and interpreting data. Negative perceptions about the industry have been the main factor causing the shortage and now there is a huge focus on ensuring the roles are more attractive.
---
This list of trends will have a lasting impact and will shape the future of construction and many organisations are already on board and flourishing because of this new way of life, it is important you adjust your workplace to stay ahead of your competition.
---
Omnia Machinery is an industry expert in used construction equipment and a trusted machinery trader. We stock a wide variety of quality used construction equipment to suit many different jobs such as cranes, road equipment, quarry, earthmoving, piling, drilling and underground mining. We provide our customers with all information and pictures with their quotation before any sale is agreed. From inspections to shipping, we are here to support you through every step of the transaction and keep you informed throughout the whole process enabling you to purchase in confidence. Contact us today with your machinery requirements.