Earth Moving machinery also referred to as heavy equipment, is typically designed for construction projects which involve earthworks. They are often the most noticeable on a construction site due to their size. Earth moving equipment covers a vast number of operations, from construction to demolition and a range of tasks in between making them an essential on any site. These specific machines must be durable due to the need for them to operate in a range of climates and different terrains. They can also be known as: heavy trucks, heavy machines, construction equipment, heavy vehicles and engineering equipment. Dating back to as early as ancient times, these machines have advanced incredibly and they play an extremely important part in the construction industry today.
---
Excavators
Excavators are popular earth moving vehicles that feature a bucket, arm, rotating cab, and movable tracks, most can rotate 360 degrees. They are also known as diggers due to their many functions including: digging of trenches, holes and foundations, material handling, demolition, rough grading, heavy lifting and pipe installation, brush cutting with hydraulic attachments, mining and river dredging. Available with tracks or wheels this piece of equipment is an essential for most projects.
---
Bulldozers
A bulldozer or dozer assist with pushing, digging, excavating, and levelling materials like soil and debris at a construction site. This powerful machine is made up of many parts the key are its blade, tracks and ripper. Due to the strength of the bulldozer, they have often been used in the military service. There are many options when it comes to dozers however the most common are crawler, wheeled bulldozers and mini bulldozers.
---
Backhoe Loader
A backhoe loader is made up of three pieces of construction equipment to create the one unit, it is a tractor, a backhoe and a loader. This unique machinery is likely to be found on most major building sites. The main function to dig up hard, compact material such as earth, or to lift heavy materials. This type of machine is usually found digging trenches, clearing out ditches, transporting materials, lifting loads, and breaking asphalt.
---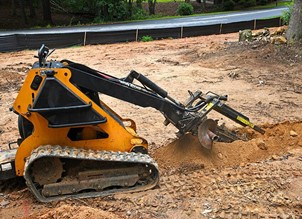 Trenchers
You will find trenchers breaking soil and rock and removing it from the ground. Also known as ditchers this piece of heavy machinery is usually needed for tasks, such as laying pipes and electrical cables or installing drainage. The common types of trenchers are the heavy wheel trenchers or rock wheel trenches, and chain belt trenchers known as ladder trenchers.
---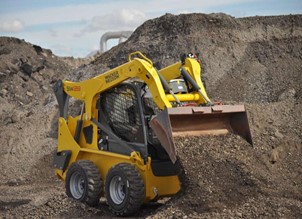 Skid-Steer Loaders
This piece of flexible construction equipment used primarily for digging is used to dig, collect, lift and move material, particularly dirt and sand. Also known as "bobcats" the skid steer loader gets its name from the ability of the left wheels to turn independently of the right wheels, as they have their own engines. A key aspect of this machine is the variety of attachment options, the most common being the bucket accessory. Making them an essential for a range of projects.
---
Here at Omnia Machinery, we have a wide selection of quality used earth moving machinery ready to be put to work on your upcoming projects. We offer Backhoe Loaders, Dumpers, Telescopic Loaders, Wheeled Loaders and both Tracked and Wheeled Excavators. from a selection of leading manufacturers such as Caterpillar, Komatsu, Doosan, Liebherr, JCB, Volvo, Hitachi and many more. We will ensure that the specification of the machine matches up to the project it is required for.
Before shipment, we always ensure that our machines are up-to-date and are fully tested. Should you require something more specialist, please contact us and our expert team will aim to source the machine required for your project.