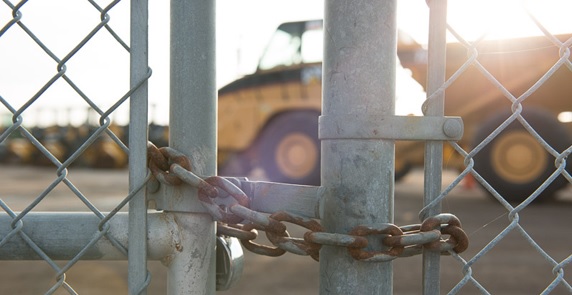 Heavy machinery often comes with a hefty price tag. The significant value of these machines makes them an attractable target for thieves. Currently, the annual loss attributed to construction equipment theft is estimated at over $1 billion in the USA, at over €1.5 billion across European countries and around $650 million in Australia!
As a heavy machinery owner, there are several steps you and your operators should take to reduce the risk of equipment theft:
1. Install security measures
Be sure to make your site and machinery secure to help reduce the risk of theft. A good place to start is by installing CCTV to the site and ensuring that it covers the area where your heavy equipment is stored. CCTV with motion detection is highly effective and it is good practice to have a well-lit yard which will help to identify any thieves on CCTV and potentially deter them.
Adding tracking devices and immobilisers to your machinery is a good theft prevention measure to have in place. Having a tracking device installed will help you to track and locate your machine. Immobilisers will prevent the machine from being able to start-up and run without the correct key being present.
2. Make your mark
You can't rely on number plates to help you identify your equipment, as thieves will usually remove this as soon as they have stolen your machinery. One way of helping to ensure your equipment can be easily identified is by adding unique markings. Create a record and take photos of these markings so that you will always know which piece of heavy used machinery is yours.
A good place to start is by marking your address somewhere on the machinery so it can be easily traced back to your business and site. Police and other businesses will be able to easily identify you from the address and help return the machinery to its rightful owner.
3. Make a record
Its important to ensure every piece of information about your heavy machinery is recorded. Make note of the machine's manufacturer, model, serial number, colour, purchase dates, list of keyholders and equipment value to make it as easy as possible to identify your machine.
Take detailed images of your machinery, print and store it in a secure location. It is also a good idea to keep back-up copies of all machinery records such as on USB sticks, computers and safes so that you can always have this information to hand if necessary.
Be sure to register your plant equipment with The Equipment Register (TER) to help increase the potential of locating your machinery should it be stolen. TER is a national database of heavy equipment that can provide you with online theft checks and the recovery of construction machinery.
4. Ensure everyone on site is trained correctly
Ensure all operators and site personnel are trained to properly use and shut down the piece of equipment they will be using. Site protocol should include carrying out end of day checks to ensure all machinery has been properly parked and secured. A log should be completed daily to provide a record of who signed off this task.
Having a record of this will help to identify where any errors were made if your machinery was to be stolen and can provide you with some insight on how it happened.
5. Complete a risk assessment
Complete a thorough risk assessment of your site to help identify any potential risks that could lead to the theft of your heavy plant equipment. Once you have identified the hazards, be sure to put strict measures in place to prevent them from occurring.
Risk assessments should be completed regularly (at least once a year), to keep up-to-date with the current site and surroundings and ensure any changes do not result in potential risks. A further review is recommended once any changes have been made to the business such as new equipment, materials, processes or people.
6. Insure your equipment
Taking the above measures can help to prevent your machinery from being stolen, but sometimes its not enough. It is impossible to guarantee that your site will never be subject to costly crimes, having insurance on your machinery can cover you for the loss in the unfortunate event that it has been stolen.
What to do if your machinery has been stolen
As soon as you are aware that your machinery has been stolen, you must call the police to report it immediately. Ensure you have all information to hand so you can provide the force with as much detail as possible on your machinery.
Be sure to make note of your crime reference number so that you can process the claim through your insurance company and use it to keep up-to-date with the police. Don't forget to notify any online databases such as TER that your equipment has been stolen.